Hi everyone! I hope you all had a wonderful Easter. I had to work Sunday and Monday, but my Dad and little brother came to visit on Friday-Saturday, and we had a great time visiting family friends, lunching on a patio (finally! sunshine!) and wandering around downtown. I stretched my idea of work appropriate wardrobe by wearing
this dress
to work, and ate wayyyy too many chocolate eggs on Sunday!
I was a little surprised by how bummed I was when my family left. I even felt a little...homesick? It was strange, and completely unexpected. I think it may be compounded by the fact that I am looking for apartments and finding it completely discouraging (Toronto is way expensive--I had no idea how cheap my rent actually was until I started looking around). But fortunately I have a lot of things to cheer me up. Things like:
Kacey Musgraves
Starbucks Snapfish tumbler
I've been looking for a coffee travel mug for a while. I'd been relying on my Tervis tumbler but I hated that I couldn't throw it in my bag, and I hated that it was clear. I could never find a travel mug that was quite cute enough to justify spending $15+ on it, until I found
this one at Starbucks.
You can create your own collage on the insert, or put your own pictures inside of it. This is absolutly perfect for me, because I get bored of things so easily and the customizability of it means that I can switch out the inserts whenever I get bored.
Baseball Season
Speaking of the Blue Jays, how excited am I that today is opening day? So. Excited. When I was living in Ottawa, I always said I'd make it down to Toronto for more games, but it never happened. Now, I can see a game anytime I want (except for tonight, because it's sold out, and I don't have cable).
I just love going to baseball games, especially in Toronto. I used to go with my parents all the time, and something about sitting in the stadium, when the dome is open and you can look up and see the CN Tower, just makes me nostalgic in that happy, kid-again sort of way.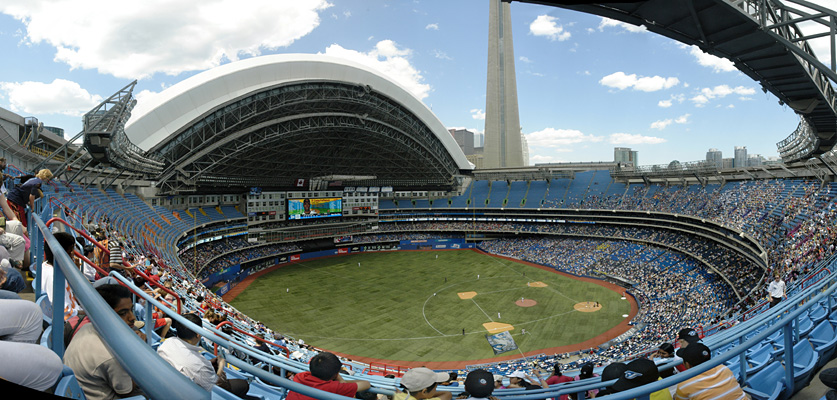 I'm heading to my first game on Thursday with my roommate and my soon-to-be roommate, and I could not be more excited! Although, given this recent cold snap, I'm sort of hoping they keep the dome closed!
The Lizzie Bennet Diaries
Full confession: I've never read Pride and Prejudice all the way through, but my Dad took me to see the play last month and I loved it! I have several English-major friends who love P&P, and now I totally get it.
I know I'm about a year late on the uptake, here, but I JUST stumbled across the
Lizzie Bennet Diaries
, and it was like my love welled up and exploded into tiny, 4-5 minute long pieces.
The LBD is YouTube adaptation of Pride and Prejudice, if Elizabeth Bennet were a 24-year old Mass Comm major in California with a video blog. It's FANTASTIC. It's cute, and clever, and so so well done, and the episodes are all short enough that you can watch 1-2 while you're eating breakfast (or, you know, 10-20 when you should be doing important things with your life).
Honestly, I think anyone would find these videos enjoyable, whether you've read P&P or not! They've certainly brightened my mornings for the past few weeks.
Instagram
I've been going a little
instagram
crazy the last week, mostly because I realized that I only really use it when my life is exciting. I decided I needed to a)
do
more exciting things and also b)
be
excited by more things. So I've been taking more pictures and trying to cherish the little things that make my day brighter.
The view from my office building
Any recommendations for other web series/music/books/apps I might love? What's making you happy lately?